The Cobra Series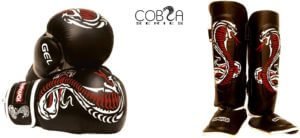 Want to add an extra edge at training? Want to look stylish and intimidating as you perfect your technique?
Well as always we have all of your needs covered at SideKick HQ as we unleash the new Cobra series of Muay Thai style boxing gloves and shin insteps.
Gloves come in the sizes 10, 12, 14 and 16oz, they are velcro fastening, made from genuine leather and are available in black, white, blue, red and pink.
The shin insteps are also made of genuine leather, they have 2 fastening velcro straps including underfoot support, and also come available in the colours of black, white, blue, red and pink.
Strike safely, strike like a Cobra, we are always in your corner.