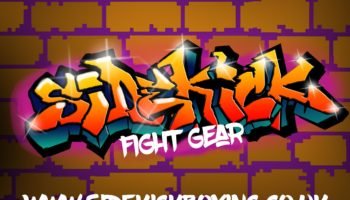 As we have been running for almost a decade, one of Sidekick Fight gear's biggest priorities is sport sponsorship's. I'm sure we all see big names like Anthony Joshua and wish we could land a huge sponsorship deal or big endorsement like those fighters, but in reality it's not always that easy.
My name is Daniel Knight and I know what a fighter goes through from week to week working hard both in the ring and in the office. As a kickboxer, I have spent thousands of hours training in the club, and I have been graded to a 1st degree black belt, and I have also competed at local events which have run up expensive costs.
Running Sidekick is equally gruelling, but extremely rewarding, as the promotional side of the business has lead to meeting a lot of good friends and promoters which I now work with closely such as Stand and Bang, Shock n' Awe, FCC "Full Contact Contenders", BCMMA, Kombat Zone, and so many more. Our selection of hard wearing as well as visually appealing fight merchandise has also attracted a few and met celebrities such as Alex Reid, Dizzee Rascal and even Katie Price, who was seen getting into her Bentley with one of our Sidekick sports bags.
Direct Contact
From amateurs to pros, we frequently get emails from fighters at all levels of their training and we do our very best to reply and give helpful advice. The best bit of advice that I can give when approaching a company for sponsorship is to research the company first. You must have a clear understanding of what you want and what you can bring to them too. This is because a sponsorship is a deal that has to be mutual for both parties.
We often help fighters with sponsorship when they compete on big promotions like GLORY, BAMMA and Bellator. Although it's rare they can also struggle with promotion and look to make quick and expensive deals for both brands and fighters. You must also be easy to contact, as well as able to travel to events and facilities in order to become the best fighter you can become.
Social Media
A great way to get attention is social media platforms such as Instagram, Twitter, YouTube and Facebook as well as many other types of online presence. The question is, can a platform that attracts lot of people to see pictures and videos impress a promoter?
I often get a great email from a fighter then do some research on them myself only to be let down by their lack of presence online. However, a great way to change this is to ask some questions about your online presence such as: do you look good? Are the pictures and videos clear and aesthetically pleasing? Am I showing my best achievements? Which gear am I wearing?
It is also important to know your worth as a fighter. The big names know not just how big they are and how much exposure they get, but just how much exposure they can offer a company. This is the ideal way for you to become the best fighter that you can possibly be as well as to get the best promotions too.
When I see fighters in Sidekick gear it goes a long way as a company wants to see you believe both in yourself and in the brand you want to endorse. This will always provide a great opportunity to be noticed as a fighter.
I hope this quick guide helps you.
All the best,
Daniel Knight
SidekickBoxing